Capital One Auto Finance at ADL Auto Sales in Fort Worth
Posted Friday, Feb 17, 2023
You may begin your application without a hard credit pull by being prequalified. If there is a match, you may see the interest rate and monthly payment for the particular automobiles you are thinking about. Additionally, you will be free to alter the loan duration or down payment to design a solution that suits your needs.
The following action is to go to the dealership and finish the credit application. Capital One will get a copy of your credit record and score for final approval. To complete the process, you must provide any necessary paperwork and electronically sign your contract.
During the application process, the lender or Capital One could additionally request the following papers from you:
Your most recent driver's license copy.
Proof of residency may be a recent lease agreement, bank statements, insurance billing records, or a utility bill in your name from the last 60 days.
Evidence of income, an offer letter for W-2 work income, or a bank statement for the past three months if you are self-employed.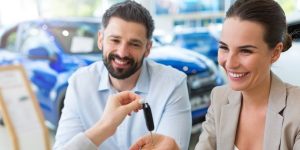 If your credit score is nonprime (between 601 and 660) or subprime (between 501 and 600), a Capital One vehicle loan may be right for you. Borrowers may encounter high interest rates or lender rejection in certain credit categories.
Borrowers with credit ratings as low as 500 can work with Capital One. Capital One's auto loan interest rates often start lower than average, which may make it easier for borrowers with this type of credit to obtain cheaper interest rates.
On its website, Capital One does not, however, provide specific information about interest rates or costs. While most other lenders would list the range of interest rates that potential clients might choose, Capital One does not make that information available to the general public.