January 2023 – Launching our new website
Posted Saturday, Jan 28, 2023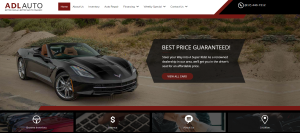 ADL Auto Sales has been in business for almost 20 years. From time to time it's time to refresh the look of the business and we decided to revamp our website with the help of our friends at NowCom / DealerCenter. The website that we put together will make shopping for a new vehicle an absolute breeze. The changes we have implemented will allow you; our valued customer; a superior shopping experience. Let's face it, most shopping starts online. Most online shopping starts on websites such as CarGurus; CarFax; TrueCar and maybe Google. All roads lead to ADL Auto Sales if you are looking for a quality vehicle and fair deal on your 'new' pre-loved vehicle.
The tools made available by DealerCenter will benefit both the dealership and the customer. As a customer you can work your own deal online! No surprises when you get to the car dealership to pick up your vehicle.
Pick the vehicle you want to finance / purchase.
Provide some basic information.
See instantly what vehicle you qualify for.
It is really that simple! WE have always listened to our customers and let THEIR budget determine.